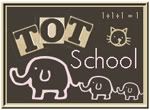 Our week in TOTSchool/Preschool
Emily is 37 months old
Juliette is 9 month old
Emily and her friend tried to catch "butterflies" while playing Elefun.  It is so cute to watch the running around trying to get them.  Emily realized she could let them fall and just pick them up off of the floor at one point.
I printed these Easter Bingo Dauber printables and had Emily use glass beads to cover the dot spaces instead.
We used egg shells from our Egg Shell mosaic to make these fun Easter Egg Pictures.
Emily and her friend practiced following directions while making Resurrection Rolls.  They were a really yummy treat that we will be making every year before Easter!
Emily had a great time coloring  the bunny with this fun Color by Number activity I made for her.  You can click the link for a free printable and instructions for this activity :0)
Emily cut actually cut out the dots on this cutting practice page from Confessions of a Homeschooler.  I gave it to her and when I checked on her she had cut out all three dot lines, not just along the line but cut them out!  I wish I had taken a picture she did such a great job and was so proud of herself, I couldn't tell her all she had to do was cut along the line.  Next time I will make sure to explain more clearly!
We had some fun with Dot Stickers.
Emily enjoyed some more cutting practice.
We painted with plastic Easter Eggs.  It was really neat to see all the different pictures.  Some kids rolled them around on the paper and others broke them in half and printed with them.
We also decorated Easter Egg Cut outs with confetti.  I must have hole  punched a million little circles, but it was worth it to see so much crafting fun!!
We had some beautiful days that we were able to go outside and enjoy the new swings et that Emily got for her birthday!
I loved this picture of my two little girls watching each other!
Sarah had a great idea to use clothes pins with UNO cards.
Emily did some mazes.  Sarah put pages from a KUMON book into sheet protectors for the girls to work on.  They all did really well passing them around once they finished with them.
We did the Letter Qq and made a Quilted Q out of tissue paper.  It looked really cute when it was finished.
Emily and I LOVED making fried dough.  First they broke pizza dough into pieces.  Sarah fried it for them…
…and then Emily got to roll hers around in sugar and cinnamon!  Yummy :0)
I got Emily a Bingo Dauber from the dollar tree to use for this fun find the letter activity.  Emily LOVED doing this and wanted another one as soon as she finished it!
For our stART project we read Good Morning, Pond and made a frog out of a paper plate.
Tiny Tot School
Juliette had fun playing with her friends.  She loves being around all of the other kids.
I gave Juliette a crayon to explore for the first time.  Surprisingly it didn't go in her mouth right away!!
She moved it all around the high chair tray…
…so I drew some circles to show her what it did. 
Juliette is climbing on everything.  She loves the sit and spin, just wait till she can actually use it the right way :0)
Juliette loved the slide, I held her as she slid down it!
The weather was so beautiful that I put out a blanket for us to sit on and explore some of the things that we found in the backyard.  Juliette loved the pine cones that Emily had collected…
…the sticks were a lot of fun too!
Our favorite books from this week:
What is Easter? ~ Michelle Medlock Adams
Good Morning, Pond ~Alyssa Satin Capucilli
Sitting In My Box ~Dee Lillegard
Little People Lift the Flap Book Spring is Here ~ Reader's Digest
Check out the great things that others are doing with their children by clicking the buttons on the top of this page!!