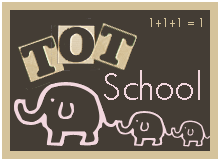 Our week in TOTSchool
Emily is 31 months old.
This week we have been doing circle time in the morning. We sing the
Days of the Week Song
and then we put the day of the week word on the door. Since we have been talking about the letter Aa Emily was very excited to point out the letter Aa in each of the days of the week. We also talked about the weather each morning and put the correct weather card on the door. Then we sang some songs together. I brought Juliette over to sit in her bouncer and she actually started making sounds to sing along with us. The favorite song of the week was "Teddy Bear Teddy Bear" Emily enjoyed doing the different movements that go along with the song!
Emily enjoyed
Music Class
at my friend Sarah's house. We have been meeting for over a year now and Emily loves singing the songs and playing the instruments.
For our Unplugged Project we did a feather painting. Emily glued the feathers on when she finished her painting.
We got some new play dough toys and Emily has wanted to play with them almost every day. This sprinkle maker is now her new favorite!

We dyed eggshells for our open ended art project. Emily was so excited to fish the eggshells out once they were all colored. She did a great job with this, there were NO spills I was so amazed at how careful she was the whole time.


Emily and Daddy got to work on an Eggshell mosaic for our Open Ended Art project.



For our stART project this week we read "Do You Have a Hat" and "Go Dogs Go" and then we made our own paper hats and decorated them with Sequins and Spangles, stickers, feathers and markers. This was a great fine motor activity!
We have been working really hard to use up the 25.5 pounds of apples we got when we went apple picking. It has been a lot of fun trying lots of different apple recipes. This week we made an apple cake. Emily really liked being able to arrange the apples on top of the cake batter.
Emily got out her giant coloring book and was having fun coloring on the floor with Juliette. I loved how intently Juliette seemed to be watching Emily. I know she can't wait to join her in everything that we do!



Emily and I had fun singing "Who Stole the Cookies from the Cookie Jar" and I was actually able to get it recorded. We have done this song in our Music Class and Emily was asking me to sing it to her.




Our favorite books from this week:
Do You Have a Hat? ~ Eileen Spinelli

Go Dog Go ~ P.D. Eastman

Sitting In My Box ~ Dee Lillegard

Brown Bear, Brown Bear, What Do You See? ~ Bill Martin Jr.
Check out the great things that others are doing in their TOTSchools by clicking the button on the top of this page!!