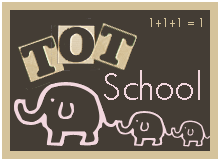 Our week in TOTSchool
Emily is 36 months old
Last week we had another huge snowstorm.  I brought in some snow for the girls to play with.  Both Emily and Juliette had a great time in the snow.  This was the first time that Juliette got to touch and experience snow.  She was so cute as she explored it!!
Emily enjoyed scooping the snow into containers and also poking pipe cleaners into the snow.  Juliette liked touching the snow and splashing around in the melted snow water!
Daddy took Emily outside to play in the snow and ….
…build a Daddy and Emily Snowman!
My favorite picture!!!! 
We made Yummy Yums (this is seriously what my friend Sarah calls these yummy creations!)
My friend Sarah came up with this cute idea to make a lion for the letter L.  Emily was happy to cut the grass into fringe!!
This bingo dauber activity from Confessions of a Homeschooler was a lot of fun.  I am looking forward to doing more of these with Emily, she seemed to enjoy them a lot.
They also put flat colored beads to cover the white circles in this activity from Confessions of a Homeschooler.
   Juliette investigating Braeden's toes.  While the girls were at work on their projects.
The girls made corn muffins.  Great practice scooping, pouring and mixing.
Spooning the mixture into the muffin tin.
We made mountains for the letter M.
Practiced patterns with M&M's, which all the girls were happy to eat when we were finished!
Fine motor practice with water droppers and suction cups.  Emily loves anything that means she is able to play with water!!
Emily had fun painting and listening to music for our stART project this week.
We were able to get together for art group and we worked on our color wheels and clean finger painting with orange.
Emily's cousin came over and they had fun playing with play dough.
Our favorite books from this week:
Danny The Dragon Meets Jimmy ~ Tina Turbin

Fisher Price Little People Welcome To Our Town Big Flap Book ~ Ellen Weiss

Fisher Price Cars, Trucks, Planes, and Trains Lift the Flap Book ~ Nancy Rindone 

Glad Monster, Sad Monster ~ Ed Emberley
Check out the great things that others are doing with their children by clicking the buttons on the top of this page!!