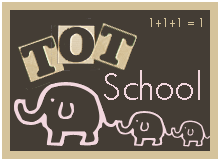 Our week in TOTSchool
Emily is 27 months old
Emily used primary colors to paint with after reading Warthogs Paint...we turned this into wrapping paper for Daddy's birthday present, which he loved!
Emily used her Winnie the Pooh stamp set to make Daddy a birthday card.

Emily went strawberry picking in our front yard!! We were both so excited that there were some red ripe strawberries ready to be picked.
Emily enjoyed her fresh strawberries for a snack.
This week we had a lot of fun at a hands on music program that was held at our local library. Many of the songs that we sang were about the farm. Emily's favorite song from the program was Shake Your Sillies Out...and she was so excited when we got in the car and that was the song that was playing too!!
Here is a You Tube video of the song...it is one of Emily's favorites!!




Our favorite books from this week:
Check out the great things that others are doing in their TOTSchools by clicking the button on the top of this page!!