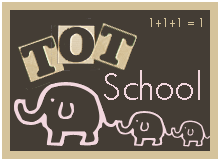 Our week in TOTSchool
Emily is 3 years old!!
This week we had our friends over for a Valentine's Day Brunch and the Girls got to exchange Valentine's Day Cards and Gifts with each other.   I couldn't believe that I forgot to take pictures, but we all had a great time eating (Hash brown Casserole and Heart Shaped Waffles) and playing!
Emily sorted Conversation Hearts by colors.  This was a great color recognition and fine motor skills activity.
For our stART project we read Duck on a Bike by Davis Shannon and Emily made a Duck on a Bike.  This was a great activity for practicing coloring, cutting and gluing.
Juliette is starting to pull herself up on everything.  I even found her standing up in her crib.  Emily enjoys helping me with her and keeping her occupied.  She is such a great big sister!!
Emily's friend came over for a play date.  They had fun playing in our Valentine's Sensory Tub.  They practiced sorting, scooping and pouring.
The girls  had fun pretending to make cupcakes with play dough and silicone muffin tins that I picked up at the Target Dollar Spot!!
Juliette joined them for a fun Letter Cookie Snack.  Both girls loved finding the different letters.
We ended with some coloring!
Our favorite books from this week:
Duck on a Bike ~ David Shannon

Chicka Chicka Boom Boom ~ Bill Martin Jr., John Archambault, and Lois Ehlert

The Cat in the Hat ~ Dr. Seuss

Fisher Price Let's Go On a Class Trip Lift the Flap Book ~ Readers Digest
Check out the great things that others are doing with their children by clicking the buttons on the top of this page!!