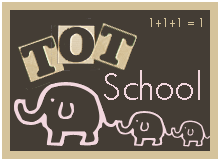 Our week in TOTSchool
Emily is 35 months old
This week Emily has been sick so we spent the week at home. She was tired and spent most off the time resting on the cough, however we did manage to fit in some fun activities and projects when she was feeling up to it.
Emily enjoyed this fine motor skills practice. I cute pink, red, white and silver pipe cleaners to fit inside an empty onion powder container. She spent a good amount of time filling it, twisting of the lid, emptying it and filling it again. I thought the Valentine's Day Colored Pipe Cleaners made it all the more fun :0)
We made a fun Mr. Groundhog puppet to go with a cute Mr. Groundhog song to celebrate Groundhogs Day!
Aunt Jennifer came over and was coloring with Emily and Juliette was very excited to get in on the fun!
Emily enjoyed playing with the Valentine's Day Lacing Hearts that I made for her. This was another fun fine motor skills practice activity.
I saw these groundhog color by number printable on Our Little Family and Emily LOVED them. They were great for practicing numeral recognition and colors. We also did the Roll and Color Groundhogs Day game too!
Emily built a Block Maze for the cars and dolls to walk through. Next time I think we need to bring out the Duplos because we ran out of blocks pretty quickly!
Recently Emily has been really into stamping we played a counting game with this snowflake stamp. We took turns rolling the dice to see how many snowflakes to make. We played until the paper was filled up. We both had fun and it was great counting practice for Emily.
For our stART project this week we read Pooh Loves You and Emily made a Love Collage. Emily was able to cut out all the pictures without any help. She was very proud of herself and excited to start cutting out her own things now!
After our family dinner Emily showed Grandpa how to make ice cream with her play-doh ice cream set.
She also showed everyone how she nurses pink baby! I am so proud of her :0)
Emily has been very interested in her name so when I found this site that lets you make your own dot tracing printable I knew I had to make one with her name, so she can practice writing it. I laminated the printable so that she will be able to reuse it!
Our favorite books from this week:
Groundhog Stays Up Late ~ Margery Cuyler

Pooh Loves You ~ Fran Posner

Bear Shadow ~ Frank Asch

Good Night Moon ~ Margret Wise Brown
Check out the great things that others are doing with their children by clicking the buttons on the top of this page!!