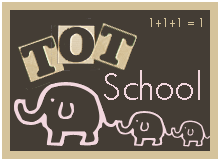 Our week in TOTSchool
Emily is 37 months old
Juliette is 8 months old
I got a big bag of Rainbow Colored Buttons from Oriental Trading along with these great muffin cups.  Emily had a great time sorting the whole container of buttons for me!  This was a great fine motor skill practice, along with color and sorting.
Since Emily has started watching the LeapFrog - Letter Factory
DVD  she is OBSESSED with letters.  She finds them wherever we are and gets so excited about them.  I often hear "MOMMY look a T" when we drive past Target.  While we were baking for this week's stART project, she found the letters for KITCHEN-AID and pointed them all out to me!
We celebrated St. Patrick's Day with a Green Shamrock Pancake Breakfast!  We also did a lot of fun St. Patrick's Day activities during the week.
We mixed blue and yellow paint together to make potato prints.
We made some Irish Soda Bread with our friends.  This was great practice mixing, scooping and kneading.
We did water transfer with yellow and blue water.  Emily used a pipette to transfer the water in the muffin tin.  I loved how sturdy these tins were for this activity.  They were very inexpensive from Oriental Trading and can be used for so many different activities!
We made the Letter O for Octopus.
Emily has been cooking up a storm in her play kitchen.  Juliette usually sits on the floor and dumps the food out of the bins, but she has discovered that she can stand and reach the counter.  I was so glad that my camera was handy for this picture!
Emily was working on her Melissa & Doug Alphabet Train Floor Puzzle
…
…and Juliette played with her Melissa & Doug Farm Chunky Puzzle.  She loved handling the pieces.  I talked about the animals and the sounds that they made.  She had fun with this and it kept her from destroying Emily's puzzle for a little bit :0)
We had such beautiful weather her this weekend, so we had our first backyard picnic for lunch…
…while Daddy set up Emily's new Trampoline!!
Can you tell that she loves it!!
Juliette got to sit on it for a picture, she will have to wait till she gets bigger to actually enjoy it ;)
Here is a video I got of Emily playing on the trampoline.
Our favorite books from this week:
Bear's New Friend ~ Karma Wilson

Where is Baby's Belly Button ~ Karen Katz

Warthog's Paint ~ Pamela Duncon

Little People Worlds of Adventure ~ Reader's Digest
Check out the great things that others are doing with their children by clicking the buttons on the top of this page!!