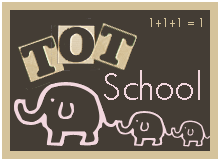 We had another exciting week!
We got about 8 inches of snow so we went outside to blow colorful bubbles into the snow.
It made a really cool design!

Emily loves playing with her Melissa and Doug Alphabet Blocks.



Emily is playing a color sorting game I made for her.
Here Emily is working on patterns with her blocks.
We got this Farm Sticker Book at a Dollar store and she loved matching the stickers to the shaded area. Now we read it and talk about the different animals on the farm.


This is Emily's new learning toy. She got the Melissa and Doug Lacing Beads for her birthday this year. This was her first time trying it and she carefully strung every bead onto the string with almost no help!! I was very proud of her.
She was very proud of her necklace, too!

Our favorite books from this week:
On Top of Spaghetti ~ Paul Brett Johnson **See our Reading Theme Challenge Post for the fun activities we did for this book

here

.

More Spaghetti, I say! ~ Rita Golden Gelman

The New Potty ~ Gina and Mercer Mayer

The Letters are Lost ~ Lisa Campbell Ernst

Check out what others are doing in their TOTSchools by clicking the button at the top of this page!!