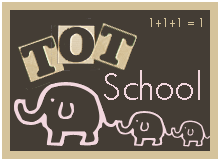 Our Week in TOTSchool
Emily is 25 months old.
Emily enjoyed doing her fishing puzzle. It actually has a fishing rod that picks up the magnetic fish. We use it to practice colors, I tell her which one to fish for and then she gets it.
We added split peas to our sensory tub and this time I gave her a teapot and some teacups to practice filling and pouring.
I have this cake stand that you can change the ribbons in. So for each holiday I put a different ribbon in. Emily was wathing me do this and really wanted to help, so I showed her how to do it and she practiced lacing!


Emily did some reading in her Book Nook.
Our favorite books from this week:
Wake Up, It's Spring ~Lisa Campbell Ernst

It Looked Like Spilt Milk ~ Charles G. Shaw

The Very Hungry Caterpillar ~ Eric Carle

Duck On A Bike ~ David Shannon

Check out what others are doing in their TOTSchools by clicking the button at the top of this page!!