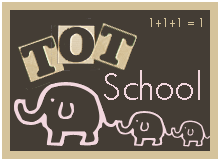 Our week in TOTSchool.
Emily is 25 months old

Emily enjoyed practicing pouring with her rice tub. We used this almost every day this week!
We have been counting down the days until Easter with our
Easter Lamb Countdown
. Emily loves looking for the number each day and gluing a piece of cotton onto it.
Emily and I took turns reading Bible Stories to each other and Emily especially enjoyed reading to Beau!
Emily cooked all different yummy foods for Mommy. She loves pretending to cook and eat too!
We also did a lot of singing. Emily is really getting good at actually singing some of our favorite songs and she loves to do the hand motions.
Some of our favorite songs from this week were:
Old McDonald Had A Farm ~ Emily likes to pick the animals

If Your Happy and You Know It

Skinamarink

Happy Birthday To You ~ Ever since her birthday this is one of the songs we sing at least 10 times a day :0)
Our favorite books from this week:
St. Patrick's Day Countdown ~ Salina Yoon

Five Little Monkeys Jumping on the Bed ~ Eileen Christelow

If You Give A Mouse A Cookie ~ Laura Joffe Numeroff

Little Lamb ~ Piers Harper
Check out what others are doing in their TOTSchools by clicking the button at the top of this page!!