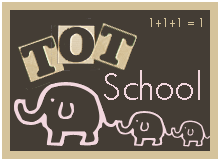 Our week in TOTSchool.
Emily is 25 months old
We had a much better week this week! We did projects and activities at home, at the Library and at our Gymboree Art Class.
Emily doing her lacing beads
When she was finished she said it was a snake and pulled it around the kitchen.

Working on a Melissa and Doug Magnetic Alphabet Puzzle Book


Emily cooked Big Abby and herself tomato pancakes
Helping Big Abby drink
Playing with Play-Doh is a favorite in our house.
Here Emily is poking toothpicks into it.
When she was finished she said it was a Birthday Cake and we sang "Happy Birthday" to everyone in our family!
Our favorite books from this week:
Who Hoots? ~ Katie Davis

Whose Baby Am I? ~ John Butler

What Will The Weather Be Like Today? ~ Paul Rogers

Good Night Moon ~ Margaret Wise Brown
Check out what others are doing in their TOTSchools by clicking the button at the top of this page!!