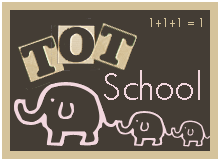 Our week in TOTSchool!
Emily is 26 months old
We made a coffee filter earth to celebrate Earth Day


Emily loved building with her new
Alphabet Nesting and Stacking Blocks
...they are tall as she is when they are all stacked up!!
We planted parsley.

We read some great books!! This was Turtle Splash and we made little turtles to help us as we counted the turtles with the story.
Emily took out her counting piggy bank for the first time in a while and had fun counting the coins as she put them into the bank.
We made a flower pot puppet.
Emily practiced lacing flower petals onto a green pipe cleaner. This kept her busy for a long time. We made patterns with the flower petals and we also practiced matching the colors...there were two of each color.
Our favorite books from this week: