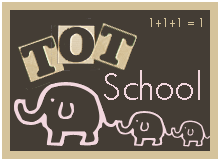 Our week in TOTSchool
Emily is 25 months old.

This week we were very busy getting ready for Easter. Emily had a lot of fun helping Mommy and learning too!
Emily sorting pom-poms into colored eggs.

She loved this and took it out all week long!

Emily playing in her sensory tub. I added plastic Easter eggs for her to fill and they were a big hit!
Filling her bank with the change from the Easter Egg Hunt at Grandma and Grandpa's house.
Peeling the eggs we colored at Grandma and Grandpa's house.
Emily was such a great helper and she was so proud to peel 2 whole eggs all by herself!
Our favorite books from this week:
Check out what others are doing in their TOTSchools by clicking the button at the top of this page!!