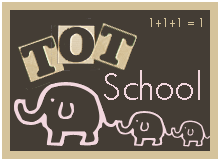 Our week in TOTSchool
Emily is 29 months old.
Emily enjoyed playing with Juliette.
We did a
Muffin Counting Game
.
Emily loves playing "Mommy" with her baby dolls. Here she is showing me how I nurse Juliette.
Emily had fun playing in her pool with my sister's two nephews.
Our favorite books from this week:
Check out the great things that others are doing in their TOTSchools by clicking the button on the top of this page!!