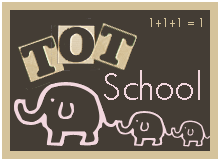 Our week in TOTSchool
Emily is 2 1/2 years old.
Emily helped me make Pumpkin Apple Muffins. Her favorite part was sprinkling the crumb topping over them.
Emily used her roller to paint for this weeks
Open Ended Art
project.
We went to the town pool.
Emily made a
Geodesic dome
with Mommy and Uncle Scott.
We made Corn Cakes for dinner. We were able to use some fresh chives from our garden.
Emily had a great time with Billy and Abby at the
Holtsville Ecology Center
. Her favorite part was feeding the goats. This is the first time she would even get close to them since she was a baby. She was also excited to see the Peacocks, however she was disappointed when the didn't open their feathers for her!
We went to visit Cousin Ryan and had some fun in the pool!
Emily did some cutting practice. She did a great job cutting on the line down the whole piece of paper.
Our favorite books from this week: