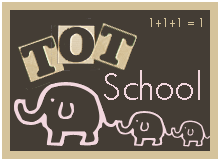 Our week in TOTSchool.
Emily is 2 1/2 years old!
We made
new crayons
out of our old crayons! Emily enjoyed peeling the labels off of the old crayons and then breaking them up to fit into the star shaped muffin tin.
We did our first
stART project
.
Emily and I read Just How Long Can A Long String Be, by Keith Baker and then we made these fun
yarn bowls
.
For our Open Ended Art project we made
sun catchers
out of crayon shavings. Emily was able to peel more crayons for this project. She also liked sprinkling the shavings onto the paper to make a pretty design.
Aunt Jennifer came over and made some fun water toys out of kitchen sponges. We found this project idea in our Family Fun Magazine. Emily had fun playing with the sponges while she was waiting for Aunt Jennifer to cut them up.
Emily put Juliettes little newborn diapers on her babies and wheeled them around. She loves pretending to be a mommy!
Emily used some of the extra sponges to do this activity that I found on this
blog
. I didn't think she would really be that into it, but it turned out to be the favorite of the week! She asked to do this almost every day since she first did it.
For our Unplugged project we did
body tracings
. Emily loved the idea of tracing Juliette and coloring her in. After I hung up the Juliette tracing I needed one of Emily so we could see the difference in their size. On Emily's we labeled the different parts of her body.
Our favorite books from this week: