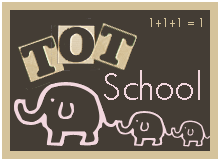 We had a very busy couple of weeks. I have been working with my mom to open an Etsy store, so all of my extra time was spent listing items. Now that we are all set up I hope to be back to our regular posting schedule. Although I missed posting TOTSchool last week we did do a lot of fun things.
Emily is 33 months old.
Emily and I made Butternut Squash Soup so Emily got to explore a squash. First I let her feel it and hold it. Next, I cut it in half and she got to feel the insides. She found this to be a lot of fun!
Emily made a cute handprint Turkey project at Sarah's house. Here she is gluing the leaves around the edge of the paper to make a border.
The girls also made the letter "E" out of an Envelope. Emily liked putting all of the Ee papers into the envelope.
Braeden and Emily had fun playing on their mat while the girls worked on their projects.
Emily made a q-tip painted turkey for her stART project.
Emily has been working on coloring pictures for us to send to Color A Smile.
Emily worked on these sequence puzzles.
Aunt Jaclyn gave Emily her first hair cut!!
She only took off a very small amount so you can't even see a difference, but Emily thought it was so much fun. She has been asking for another haircut every day since!!!
Emily helped make Italian Herb Biscuits for dinner.
Emily colored Thanksgiving cards for her cousins.
We made cupcakes and decorated them with Ryleigh. This was a very big hit! They got to practice pouring, scooping and stirring while having a lot of fun :0)
We talked about colors with this fun Princes Activity that Sarah made from the Totbook at 1 little, 2 little.
Emily requested the Ducky game. She loves moving the little ducks around the board!
Emily made a really cute Shape Turkey. We worked on shape recognition and following directions.
Emily practiced using a water dropper. This was a great fine motor and color mixing activity. I filled one cup with blue water and the other with yellow. The girls dropped the blue water into the yellow water to make green water!
Emily was playing in this Toy Chest with her doll at my mom's house. She loves that she fit inside it.
Emily and Juliette.
Emily loves posing for pictures with Juliette…it is so cute to see her get into the picture and actually look at the camera!
My friend came to visit us from Texas and Emily had so much fun playing with her. Here they are playing with Emily's Fisher Price Snap n' Style Dolls. Emily loves snapping the outfits on them and brushing their hair.
Our favorite books from this week:
5 Silly Turkeys ~ Salina Yoon
A Fly Went By ~ Mike McClintock
Ten In The Bed ~ Penny Dale
The Napping House ~ Audrey Wood
Check out the great things that others are doing with their children by clicking the buttons on the top of this page!!