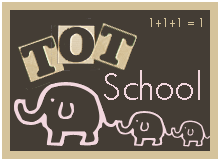 Our week in TOTSchool
Emily is 26 months old

Emily made a Triangle Kite Collage. We sorted large and small triangles and then she glued them to a kite shape.

Emily enjoyed working on her new puzzles
. They were pretty easy for her so I mixed up all the pieces for the 4 different puzzles to give her a little more of a challenge. She did a great job!


Emily practiced making some letters in sugar, but her favorite part was making crazy designs.
This week we also went on a
field trip
to the Long Island Children's Museum and Emily had a lot of fun interacting with the different exhibits. Her favorite exhibits are the Bubbles and the TotSpot.


Our favorite books from this week:
Check out what others are doing in their TOTSchools by clicking the button at the top of this page!!