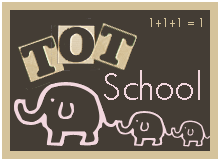 Our week in TOTSchool!
Emily is 29 weeks old
Emily played with her Playskool Mr. Potato Head Spud Buds
. She is finally strong enough to push the pieces in. She was very proud of her creations and asked me to take this picture of her.


Emily enjoyed helping me make cookies. She loves pouring the ingredients into the bowl.
Emily played with her
Melissa & Doug Grill Set
. She pretended to cook the Kabobs for us on the grill like Daddy does. This set is great for patterns, fine motor skills and pretend play of course!
Emily enjoyed showing Juliette how to play in her old activity gym. She loves the fact that all these things were hers when she was a baby.
Emily used watercolors to paint a picture in this
Disney Princess Cinderella Paint 'n Sparkle! Fun Book
that she got as a Big Sister gift. Her favorite part was using the pink glitter glue.
This week we were finally able to get out to the library to check out some new books. Emily loved playing with the toys in the children's section and doing puzzles. It was also exciting to get back to playgroup this week too, Emily really missed her friends!


Our favorite books from this week:
Check out the great things that others are doing in their TOTSchools by clicking the button on the top of this page!!