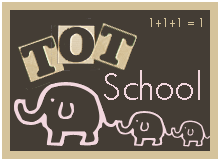 Our week in TOTSchool
Emily is 35 months old
Emily loved coloring this Glyph that Elise's blog. It was great practice in numeral and color recognition. I am planning on doing something like this each week.
Emily also had fun sorting her counting bears. Unfortunately I didn't get a picture of that.
Emily helped make Muddy Buddies. She loved shaking up the bag to cover the Chex cereal in sugar!
This felt play food cookie dough set that my mom and I made has been a favorite of Emily's all week! She enjoys pretending to roll out the dough and cut out the cookies. When she is finished we usually have a little tea party!
Our friends came over for Art Group and we added blue to our color wheel project and also made Duplo Prints with blue paint. Juliette was watching the girls work almost the whole time. Soon she will be getting her hands nice and messy too!!
Emily and Juliette are playing together more and more every day. Emily is always reading and singing to her. Here she wanted her to go on her bouncy zebra. Daddy was holding on to Juliette, but they both had a great time!
Some of our favorite books from this week:
The Three Little Kittens ~ Margaret Barton
If you give a Pig a Pancake ~ Laura Numeroff
If you give a Pig a Party ~ Laura Numeroff
Good Night Moon ~ Margaret Wise Brown
Check out the great things that others are doing with their children by clicking the buttons on the top of this page!!