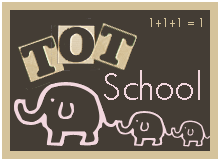 Our week in TOTSchool!!
Emily is 26 months old

Emily made her own farm with a coloring sheet and farmyard stickers. I was amazed at the story Emily made up about the animals as she was sticking the stickers on the page. She actually had a reason for where she was putting them and told me about it!


Emily always loves playing with her Little People.
Emily took out the flower petals and pipe cleaner and enjoyed working on lacing them to make flowers.
Grandpa gave her this double sided Snoopy puzzle recently and she has done it every day since she got it!

Daddy took Emily for a ride in her new wagon
. They enjoyed seeing all the flowers and plants that are blooming!
Emily was most excited about seeing and hearing the "music truck," which is what she calls the Ice Cream truck. Since she has never had the ice cream from it all she knows is that is comes around every night playing music!!
Building with her Melissa & Doug Wooden ABC/123 Blocks
.
Emily made Mother's Day Cards for her Grandmas
Our favorite books from this week:
Check out the great things that others are doing in their TOTSchools by clicking the button at the top of this page!!